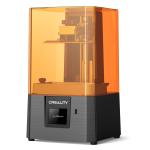 Description
Features
1. 2K solid-state display system achieves precision of 0.02-0.05mm, producing smooth surface and delicate finish.
2. It adopts the 405nm wavelength UV light source.
3. 4X/8X anti-aliasing makes precise corrections to prints, living up to the needs of fine prints.
4. Ball linear rails ensure Z-axis to move steadily, eliminates riffles on final prints, producing out smooth surface and delicate texture.
5. Double fans and active carbon air filtering system deodorizes the odor from resin.
6. Easy manual leveling.
Parameters
1. Molding technology: LCD
2. Print speed: 6-18s/layer
3. Prints support: automatic/manual
4. Nominal voltage: 100-240V
5. Output voltage: 12V
6. Layer height: 0.02-0.05mm
7. XY axis precision: 0.075mm
8. Language: Chinese/English
9. Print method: USB
10. File format: STL, CTB
11. Nominal power: 72W
12. Print size: 11.9×6.5x16cm
13. Machine size: 22.1×22.1×40.3cm
14. Machine weight: 7kg
More Pictures

Pack All Images and Download